Home
About Us
Club 90
Senior's Mental Health
Volunteer
Board of Directors
Annual General Meeting
NE LHIN NSCSS MSAA
Contact Us
Resources
Meals
Activities
Recreation
Events
East Algoma Connects
Stepping Stones
Reports
Français

What is Club 90?

Club 90 is a Psychosocial Rehabilitation Program for adults in Elliot Lake and the surrounding area. Through support and sharing, members and staff provide a place to belong, a warm place, where members can achieve new levels of esteem and confidence in an atmosphere of stability and challenge. Everyone has something to offer.




The Clubhouse

Club 90 uses the clubhouse model to run its activities. The club is organized into the following units:

CAFE: Service from the cafe is available at nominal cost to members.
CLERICAL: Members participate in general office operations and publish newsletters.
MAINTENANCE: Members maintain premises and equipment.




Members and staff are responsible for developing or updating the various skills necessary for the proper operation of the club units. These work habits and abilities will upgrade the members potential and assist in a renewal of self confidence and self reliance.




Members of Club 90 help prepare a lunch or dinner daily. For a nominal amount, members enjoy a nutricious meal prepared onsite. Check the meal schedule to see what's cooking.
© COPYRIGHT 2021 ALL RIGHTS RESERVED www.nscss.com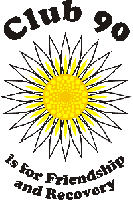 Come in!
Club 90 is open.
Staff invites you to drop in for a visit, meet fellow members, and participate in activities. They will be available to help you.
For more information, please call (705) 848-2879 and leave a message, or e-mail at mhsupport@nscss.com or
supportmh@nscss.com.
If you are in crisis you can call the crisis line at 705-848-2585.
Click here for details.

September Activities


Goal Setting




Wednesday, September 1 and 29




Begins at 10:30 am.


Join us as we set goals and accomplishments for the changing seasons on September 1 and reflect on achieving them on September 29.



Music Jam Session




Every Wednesday this month




Begins at 2:30 pm.


Bring your music instruments to Club 90. Play and sing your favourite songs, or drop by and listen to music presented by fellow members.



Camp Thompson Day Trip




Thursday, September 2




Cost: $5:00




Meet at Club 90 at 9:15 am for 9:30 departure.


Enjoy the outdoors at Camp Thompson for the day. We will have a barbeque and a few games. Bring your bathing suit, towel and sunscreen.



Journalling




Friday September 3 and 17




Begins at 2:30 pm.


Get together to write down your thoughts and feelings to help raise awareness of your struggle with stress, depression, or anxiety.



Developing Affirmations




Tuesday, September 7




Begins at 10:30 am.


Learn how affirmations can be a powerful tool to help you change your mood, state of mind, and manifest changes in your life.



Bingo




Every Tuesday this month




Begins at 1:30 pm.


Try your luck at Bingo and win some prizes.



Arts and Crafts




Wednesday, September 8 and 22




Begins at 10:30 am.


Create a variety of crafts and decorations including making signs on September 8 and painting autumn trees with Q-Tips on September 22. All material and supplies are provided.



Coffee Social




Thursday, September 9, 16 and 30




Begins at 10:30 am.


Spend some quality time with your friends as we discuss a variety of topics over a cup of coffee and snacks.



iChef




Every Thursday this month (except September 2)




Begins at 2:00 pm.




Cost: $2:50


Join Tammy and help make prepared ready-to-cook meal kits to take home and cook for yourself.



TED Talk




Friday, September 10, 17 and 24




Begins at 10:30 am.


Join us for a presentation on the following topics:
September 10 - Breaking the silence for suicide attempt survivors
September 17 - Power of vulnerability
September 24 - Recovery themed



Pool Tournament




Monday, September 13




Begins at 2:30 pm.


Get together with your friends and play pool. Compete with other teams to win some prizes.



Meditation




Tuesday, September 14




Begins at 10:30 am.


Focus your mind on a particular object, thought or activity to train attention and awareness, and achieve a mentally clear and emotionally calm state.



Mental Health Workbook




Wednesday, September 15




Begins at 10:30 am.


Keep track of your mental health by creating a workbook where you can record developments and changes affecting you mental health.



Jenga Tournament




Monday, September 20




Begins at 2:30 pm.


Build a tower of wooden blocks until all pieces are used and then taking pieces to make the tower taller. See how high you can get before it topples. Who can make the tallest tower wins.



Self-Love Presentation




Tuesday, September 21




Begins at 10:30 am.


Join us for a presentation about self-love and why we need it.



Video Presentation




Thursday, September 23




Begins at 10:30


Join us for a TBTN video and presentation about taking back the night and regaining your control of life.



Virtual Annual General Meeting




Thursday, September 23




Begins at 4:30


Tune in to the AGM. Financial and administrative reports for 2020/2021, Executive Director's report for 2020/2021, and appointing auditors for 2021/2022 will be presented.. A new Board of Directors will be elected for 2021/2022. Click here for more information.



Open House for Recovery Month




Monday, September 27




All Day


Everyone is invited to drop in at Club 90 to find out what programs and services we will offer. There will be a barbeque lunch. Remember: COVID-19 protocols are in effect for this event, i.e. must wear masks (except when eating) and physical distancing.



Reminder
Club 90 Closed
Monday, September 6 - Labour Day

Ontario Roadmap to Reopen
The Ontario government has moved all health regions into Step 3 of the Roadmap to Reopen. All retailers and services are open. Click here for information.
Mandatory Face Masks
Face masks must be worn while on Elliot Lake Transit, in retail and grocery stores, banks, medical and personal services, bars and restaurants, and in other public indoor places, as well as anywhere, indoors or outdoors, where physical distancing is difficult or impossible such as parking lots. Click here for policy.
Do your part to reduce spreading COVID-19
Wash your hands frequently.

Avoid travel to areas with high COVID-19 cases.

Physical distancing - Stay at least 2 metres (6 feet) from other people.

Wear a mask where physical distancing is difficult or not possible, such as on public transit and in stores.

Self-isolate for two weeks after you return to Canada from a foreign country or from a region with high COVID-19 cases such as the Toronto area.

Get vaccinated when you are eligible.

Get tested if you develop symptoms.

Stay home if you are sick.