What is Club 90?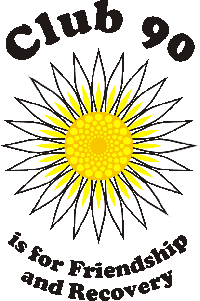 Club 90 is a Psychosocial Rehabilitation Program for adults in Elliot Lake and the surrounding area. Through support and sharing, members and staff provide a place to belong, a warm place, where members can achieve new levels of esteem and confidence in an atmosphere of stability and challenge. Everyone has something to offer.
The Clubhouse
Club 90 uses the clubhouse model to run its activities. The club is organized into the following units:

CAFE: Service from the cafe is available at nominal cost to members.

CLERICAL: Members participate in general office operations and publish newsletters.

MAINTENANCE: Members maintain premises and equipment.

Members and staff are responsible for developing or updating the various skills necessary for the proper operation of the club units. These work habits and abilities will upgrade the members potential and assist in a renewal of self confidence and self reliance.

Members of Club 90 help prepare a lunch or dinner daily. For a nominal amount, members enjoy a nutricious meal prepared onsite. Check the meal schedule to see what's cooking.
What's Happening This Month

Baking




Every Monday this month


Starts at 10:30 am.
We will bake cookies and desserts for Christmas, and make a variety of other things.



Workout at the Gym




Monday and Friday this month




1:00 pm. to 2:00 pm.


Burn off the calories and lose some weight by getting some healthy exercise. Bring your gym clothes and towel.



Yoga




Every Tuesday this month Club 90 is open




Starts at 10:00 am.


Find your spiritual self-realisation. You will do exercises to develop techniques and guidance to fulfill enriched living under the guidance of a Yoga instructor.



Christmas Crafts




Tuesday, December 4




Starts at 2:30 pm.


Get into the Christmas spirit and make wreaths, table centrepieces, Christmas cards and ornaments for the tree.



Christmas Carols




Friday, December 7




Starts at 2:00 pm.


Join the fun and sing your favourite Christmas carols.



Bingo




Tuesday, December 11 and 18




Starts at 2:00 pm.


Try your luck at Bingo and win some prizes.



Christmas Tea




Wednesday, December 12




Starts at 1:00 pm.




Club 90 will host a Christmas Tea Social. We will make ugly festive sweaters. Come and enjoy.





Board Games




Thursday, December 13 and 27




Starts at 2:30 pm.


Play your favourite games such as Monopoly, Scrabble, Sequence and many more.



Christmas Movies




Friday, December 14




Starts at 2:30 pm.


Sit back and watch your favourite Christmas movies.



Sault Ste. Marie Shopping Trip




Sunday, December 16




Bus departs 8:30 over by RONA downtown.




Cost: $33.00


Go on a fun shopping trip to Sault Ste. Marie with stops at Walmart and Station Mall. Purchase tickets in advance for $33.00 at AJ Bus Lines, 2 Charles Walk beside the Salvation Army HOPE Centre.



Christmas Poems




Mon

day, December 17




Starts at

3:00 pm


Exercise your brain and creativity and write a few poems for Christmas.



Christmas Dinner at Club 90




Thursday, December 20


Doors open at 2:00 pm.
Dinner served at 4:30 pm.
Celebrate Christmas with dinner at Club 90. Sign up by Friday, December 13 if you want to attend. Click here for details.



Community Christmas Dinner


Tuesday, December 25
Collins Hall
First sitting at 3:00 pm.
Second sitting at 5:30 pm.
If you are alone on Christmas day, come over to Collins Hall for a free community Christmas dinner. Pick up your tickets at

Alpine Flowers & Gifts, Aub

é

Law Office and Salvation Army Thrift Store.

or contact a Club 90 staff member.

Click here for details.



New Year's Social


Monday, December 31
All Day
Get ready to ring in the New Year with a variety of social activities, games, movies, snacks and refreshments. A special meal will be served.


Reminder

Club 90 Closed
Thurssday, December 6 - Staff meetings
December 25 - Christmas
December 26 - Boxing Day
January 1 - New Year's Day



Meals at Club 90


Please sign in or call by 1:00 if you are having dinner. Dinner is served at 4:00 pm.



Community Affordable Access




The City of Elliot Lake has an affordable access program available

.
This program will offer low income people and seniors reduced rates for public transit, recreation programs and admission to events. For more information and to apply, click here.