Home
About Us
Club 90
Senior's Mental Health
Volunteer
Board of Directors
Annual General Meeting
NE LHIN NSCSS MSAA
Contact Us
Resources
Meals
Activities
Recreation
Events
East Algoma Connects
Stepping Stones
Reports
Français

What is Club 90?

Club 90 is a Psychosocial Rehabilitation Program for adults in Elliot Lake and the surrounding area. Through support and sharing, members and staff provide a place to belong, a warm place, where members can achieve new levels of esteem and confidence in an atmosphere of stability and challenge. Everyone has something to offer.





The Clubhouse

Club 90 uses the clubhouse model to run its activities. The club is organized into the following units:



CAFÉ:

Service from the cafe is available at nominal cost to members.


CLERICAL:

Members participate in general office operations and publish newsletters.


MAINTENANCE:

Members maintain premises and equipment.




Members and staff are responsible for developing or updating the various skills necessary for the proper operation of the club units. These work habits and abilities will upgrade the members potential and assist in a renewal of self confidence and self reliance.



Members of Club 90 help prepare a lunch or dinner daily. For a nominal amount, members enjoy a nutricious meal prepared onsite. Check the meal schedule to see what's cooking.

© COPYRIGHT 2021 ALL RIGHTS RESERVED www.nscss.com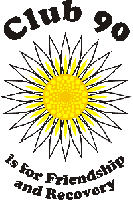 Club 90 is open!.



Staff will work on-site and will be available to help you.



For more information, please call (705) 848-2879 and leave a message, or e-mail at mhsupport@nscss.com or
supportmh@nscss.com.

If you are in crisis you can call the crisis line at 705-848-2585.



May Activities





Something different everyday




Please call (705) 848-2879 to find out what is taking place today.





Mental Health Week




Monday, May 2 to Friday, May 6




The theme is the Importance of Empathy.




All activities at Club 90 unless noted.


#GETREAL with us for Mental Health.


May 2

- Music and Dance session


May 3

- Indigenous Presentation, rock painting


May 4

- Community Mental Health Fair at Collins Hall


May 5

- Internet Safety Presentation with Const. Phillip Young


May 6

- Games, Barbeque outside
Click here for details.



Music Jam and Dance Session




Every Monday and Wednesday this month




Begins at 1:00 pm


Bring your music instruments to Club 90. Play and dance to your favourite songs and music videos, or drop by and listen to music presented by fellow members and on music videos.



Sudbury Shopping Trip




Tuesday, May 3




Bus departs 8:30 over by Debyes Pet World downtown




Cost: $35.00


Go on a fun shopping trip to Sudbury with stops at Cosco, Silver Hills Centre and New Sudbury Shopping Centre. Purchase tickets in advance for $35.00 at AJ Bus Lines, 2 Charles Walk beside the Salvation Army HOPE Centre. Please call A.J. Bus Lines at 705-848-3309 for information, tickets and reservations.



Bingo




Every Tuesday this month




Begins at 2:00 pm


Try your luck at Bingo and win some prizes.



Puzzles




Tuesday, May 10




Begins at 1:00 pm


Grab a puzzle, set yourself at a table and put together a puzzle. See what it takes to reveal a scene when all the pieces are put together.



Scattergories




Wednesday, May 11




Begins at 1:00 pm


Play this favourite word game by coming up with different words in various categories. Whoever can find the most words in each category wins.



Movies




Friday, May 13




Begins at 1:00 pm


Sit back with some popcorn and watch your favourite movies.



Colouring Contest




Wednesday, May 18




Begins at 2:00 pm


Enjoy some colour therapy by filling in various designs in colouring books. See who is best at colouring. Colouring books, markers and pencil-crayons are provided.



Tie Dye Shirts




Thursday, May 19




Begins at 1:00 pm


Get into the Hippie spirit by designing colourful shirts with elastic and wax crackle techniques to create some funky designs. Bring a white t-shirt or polo shirt of your size. All other material is supplied.



Dart Competition




Friday, May 20




Begins at 1:00 pm


Join your friends with a friendly dart tournament and see who can hit the bulls-eye to win.



Pool Tournament




Thursday, May 26




Begins at 1:00 pm


Get together with your friends and play pool. Compete with other teams to win some prizes.



Bean Bag Toss




Friday, May 27




Begins at 1:00 pm


Join us for a friendly game of Bean Bag Toss.



Painting




Tuesday, May 31




Begins at 1:00 pm


Grab some sketch boards, paint, brushes, and your creativity and design a variety of artwork. All material and supplies are provided.



Reminder
Club 90 Closed
Monday, May 23 - Victoria Day
Elliot Lake Public Transit
Bus fares have been reinstated. The cash fare for a bus ride is $2.50. Click here for complete information on bus passes, fares, routes and schedules.
COVID-19 Restrictions
As of March 21, 2022, Ontario is in phase 4 of the Reopening Roadmap with most COVID-19 restrictions lifted. Retailers and services are open with full capacity. Club 90 is now open. Click here for information.
COVID-19 Immunization Certificates
The Ontario Government has lifted proof of COVID-19 vaccination to enter most non-essential public places. A few individual businesses may continue to require proof of vaccination at their establishments. Click here to obtain your COVID-19 vaccination certificate.
Mandatory Face Masks
Face masks must be worn while at Club 90, on Elliot Lake Transit, in health-care settings, and in some public indoor places where management requires masks to be worn. Click here for policy.
Do your part to reduce spreading COVID-19
Wash your hands frequently.

Avoid travel to areas with high COVID-19 cases.

Physical distancing - Stay at least 2 metres (6 feet) from other people.

Wear a mask where physical distancing is difficult or not possible, such as on public transit and in stores.

Get vaccinated when you are eligible.

Get tested if you develop symptoms.

Stay home if you are sick.