What is Club 90?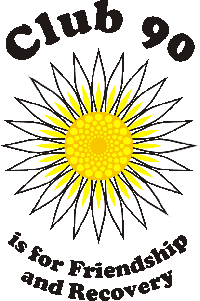 Club 90 is a Psychosocial Rehabilitation Program for adults in Elliot Lake and the surrounding area. Through support and sharing, members and staff provide a place to belong, a warm place, where members can achieve new levels of esteem and confidence in an atmosphere of stability and challenge. Everyone has something to offer.
The Clubhouse
Club 90 uses the clubhouse model to run its activities. The club is organized into the following units:

CAFE: Service from the cafe is available at nominal cost to members.

CLERICAL: Members participate in general office operations and publish newsletters.

MAINTENANCE: Members maintain premises and equipment.

Members and staff are responsible for developing or updating the various skills necessary for the proper operation of the club units. These work habits and abilities will upgrade the members potential and assist in a renewal of self confidence and self reliance.

Members of Club 90 help prepare a lunch or dinner daily. For a nominal amount, members enjoy a nutricious meal prepared onsite. Check the meal schedule to see what's cooking.
What's Happening This Month
Coffee Social
Every Monday and Wednesday this month

Starts at 11:00 am.
Spend some quality time with your friends as we discuss a variety of topics over a cup of coffee and snacks.


Budgeting
Every Thursday this month

Starts at 11:00 am.
Learn how to save money on your household expenses by looking for sales and specials, and making a list of what you need.


Sudbury Shopping Trip
Tuesday, October 1
Bus departs 8:30 over by RONA downtown
Cost: $33.00
Go on a fun shopping trip to Sudbury with stops at Cosco, Winners Homesense, Walmart, and New Sudbury Shopping Centre. Purchase tickets in advance for $33.00 at AJ Bus Lines, 2 Charles Walk beside the Salvation Army HOPE Centre.


Meditation
Tuesday, October 1, 15 and 29
Starts at
11:00 am.
Focus your mind on a particular object, thought or activity to train attention and awareness, and achieve a mentally clear and emotionally calm state.


Discussion Groups and Workshops
Tuesday, October 1 - 2:00 pm:
Mood map review
Tuesday, October 8 - 2:00 pm: Setting personal goals
Thursday, October 17 - 2:00 pm: Don't ignore the red flags
Tuesday, October 22 - 2:00 pm: Handling stress
Arts and Crafts
Thursday, October 3 and 24

Starts at 2:00 pm.
Be creative and create a variety of household objects and pieces of artwork. Use your imagination to design abstract, or bring photographs to use as reference to make your creations. All material and supplies are provided.


Colour & Art Therapy
Tuesday, October 8 and 22
Starts at 11:00 am.
Colouring is a great way to utilize the therapeutic potential to reduce anxiety, focus or bring mindfulness for your self. Colouring books and pencil crayons are provided.
Bingo




Wednesday, October 9 and 30




Starts at 2:00 pm.


Try your luck at Bingo and win some prizes.


Thanksgiving Dinner
Thursday, October 10

Dinner served at 5:00 pm.
Join us for a Thanksgiving dinner with turkey and all the trimmings. Please sign up at Club 90 by October 7 if you are interested.
Click here for details
.
Spa Day
Friday, October 11

Starts at 2:00 pm.
Get pampered with a variety of reatments including massage, facials, body treatments, manicures, pedicures and aromatherapy.
Baking
Tuesday,
October 15 and 29
Starts at 2:00 pm.
We will bake cookies and desserts, and make a variety of other things.
Darts
Wednesday, October 16

Starts at 2:00 pm.
Develop your dart throwing skills and aim for the bullseye to see who can score the highest.
Survivor Breakfast
Friday, October 18

Starts at 10:30 am.
We will discuss a variety of topics on how people survived mental health issues.


Federal Election
Monday, October 21

Polls open from 9:30 am to 9:30 pm.
Make sure to come out and vote for a new government of Canada. Check your voter registration card to see where you vote.
Movies
Monday, October 21
Starts at 2:00 pm.
Sit back with some popcorn and watch your favourite movies.
Beanbag Baseball
Thursday,
October 23
Starts at 2:00 pm.
Join in a friendly game of "beanbag" baseball, an indoor adaptation to the game of baseball.
Halloween
Thursday, October 31
Starts at 1:00 pm

Celebrate Halloween with a variety of craftss and game, followed by a dinner. Dress up in your favourite Halloween costume and win prizes.
Reminder

Club 90 Closed


Monday, October 14 - Thanksgiving Day



Next Shopping Trip to Sault Ste. Marie




Tuesday, November 5




Purchase tickets in advance for $33.00 at AJ Bus Lines, 2 Charles Walk beside the Salvation Army HOPE Centre. Call (705) 848-3013 for information.



Meals at Club 90
Please sign in or call by 1:00 if you are having dinner. Dinner is served at 4:00 pm.



Community Affordable Access




The City of Elliot Lake has an affordable access program available

.
This program will offer low income people and seniors reduced rates for public transit, recreation programs and admission to events. For more information and to apply, click here.



Bags, Purses and Backpacks


Please leave your bags, purses and backpacks at home or check them in with a staff member to store them in a secure locker.
Click here for details.