What is Club 90?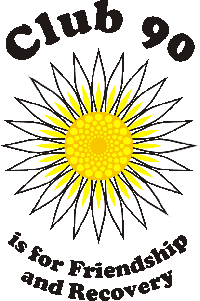 Club 90 is a Psychosocial Rehabilitation Program for adults in Elliot Lake and the surrounding area. Through support and sharing, members and staff provide a place to belong, a warm place, where members can achieve new levels of esteem and confidence in an atmosphere of stability and challenge. Everyone has something to offer.
The Clubhouse
Club 90 uses the clubhouse model to run its activities. The club is organized into the following units:

CAFE: Service from the cafe is available at nominal cost to members.

CLERICAL: Members participate in general office operations and publish newsletters.

MAINTENANCE: Members maintain premises and equipment.

Members and staff are responsible for developing or updating the various skills necessary for the proper operation of the club units. These work habits and abilities will upgrade the members potential and assist in a renewal of self confidence and self reliance.

Members of Club 90 help prepare a lunch or dinner daily. For a nominal amount, members enjoy a nutricious meal prepared onsite. Check the meal schedule to see what's cooking.

Club 90 is now offering full activities and services. See attachment for details. Club 90 staff will continue group sessions and Outreach Program to keep you connected and to provide support, and available for one-on-one counselling.

For more information, please call (705) 848-3837 or e-mail Jessica at mhsupport@nscss.com or
Kerry at supportmh@nscss.com.

We apologize for the inconvenience the recent closure has caused and will fully reopen as soon as possible.

Click here for details.



What's Happening This Month


Science of Well Being
Every Monday this month
Starts at 10:30 am.
Learn what it takes to live a good healthy life and to relieve stress and anxiety.

Barbeque
Every Thursday this month
Starts at 11:30 am.
Come over for a barbeque lunch. Cost is $3.00 for one hamburger, one hotdog, one bag of chips and one pop. The barbeque may take place in the parking lot or at one of the parks.



Meditation




Tues

day, August 4 and 18




Starts at

10:30 am.
Focus your mind on a particular object, thought or activity to train attention and awareness, and achieve a mentally clear and emotionally calm state.



Karaoke Contest




Wednes

day, August 5




Starts at

10:30 am.
Sing along to music your favourite songs. See who has the best singing voices. Prizes will be awarded to the best singers.



Coffee Social




Thursday, August 6, 13 and 20




Starts at 10:30 am.


Spend some quality time with your friends as we discuss a variety of topics over a cup of coffee and snacks.

Croquet at the Beach
Friday, August 7
1:30 pm
Spruce Beach
Enjoy a favourite lawn game at the beach. Also, bring your bating suit and towel for a swim afterward.

Art Therapy
Tuesday August 11 and 25
Starts at 10:30 am
Art is a great way to utilize the therapeutic potential to reduce anxiety, focus or bring mindfulness for your self. Be creative and create a variety of household objects and pieces of artwork. Use your imagination to design abstract, or bring photographs to use as reference to make your creations. All material and supplies are provided.



Journalling




Tuesday August 11 and 25




Starts at 2:30 pm.




Get together to write down your thoughts and feelings to help raise awareness of your struggle with stress, depression, or anxiety.



Welcome Back Brunch
Wednesday, August 12
Three sittings
Starts at 10:00 am.
We invite you to have Brunch at Club 90 as a way to welcome you back to our programs and activities. Brunch will be served at 10:00 am, 11:00 am, and 12:00 pm. Call ahead to book a sitting.

Family Feud
Thursday, August 13
Starts at 2:30 pm.


Get together into teams to answer a variety of trivia and survey questions and win prizes.



Golf with Cooper
Friday, August 14
Starts at 1:30 pm.
Join Cooper at the driving range and work on your golf skills and then play a round of golf.



Camp Thompson Day Trip to the Park




Wednesday, August 19




Starts at 10:30 am.


We will go for a fun-filled day trip to a park for a barbeque, swimming, and camp fun in lieu of our annual Camp Thompson trip.



Mental Health Trivia




Thursday, August 20




Starts at 2:30 pm.




Put your thinking caps on and your knowledge to the test by answering questions on popular topics relating to mental health.



Fishing at the Boat Launch Pier
Friday, August 21
Starts at 1:30 pm.
Grab your fishing rod and tackle and join us for an afternoon of fishing at the Elliot Lake Boat Launch as an activity in lieu of Camp Thompson.



Pool Tournament




Wednesday, August 26




Starts at 2:30 pm.


Get together with your friends and play pool. Compete with other teams to win some prizes.



Sendoff Party for Cooper




Friday, August 28




Starts at 1:30 pm.




After a short stay with us, Cooper will be leaving us as summer student. Celebrate his commitment and contribution to Club 90 with a going away party. We will miss him.



Call (705) 848-2879 to register for any of the above activities.




Club 90 Closed


Monday, August 3 - Civic Holiday



Mandatory Face Masks


Face masks must be worn while at Club 90, on Elliot Lake Transit, in retail and grocery stores, banks, medical and personal services, bars and restaurants, and in other public indoor places, as well as anywhere, indoors or outdoors, where physical distancing is difficult or impossible such as parking lots. Click here for policy.



Do your part to reduce spreading COVID-19



Wash your hands frequently.

Avoid going out except when necessary, like buying groceries.

Physical distancing - Stay at least 2 metres (6 feet) from other people.

Wear a mask where physical distancing is difficult or not possible, such as on public transits and in stores.

Groups no larger than ten people


Stay home if you are sick.